With the over-saturation with technology that seems to go hand in hand with modern living, it's no surprise that handmade hobbies are making a huge comeback. Woodworking has always been a popular choice, but more and more people are beginning to take up this ancient craft. Creating original art and furniture is fulfilling. Having the right tools makes the hobby even better. Before you start to stock your wood-shop, you will want to have a good overview of exactly what tools you will need to finish projects effortlessly.
Most hobbyist woodworkers build their tool collection a little bit at a time. The most common basic tools for beginner to purchase are a band saw, miter saw, router and detail sander. You can choose between orbital sanders and drum sanders, depending on what your anticipated projects are. Once you have a way to cut, shape and sand, more complex and specialized tools can be added to your collection. This can include things like wood lathes, a thickness planer and a biscuit joiner. A dovetail jig is also a common addition to the modern wood-shop.
After you have the basics down, you will have a chance to play with your tools for awhile and get a better idea what your favorite projects are. You will also become aware of the limitations that you face in the wood-shop. Of course, for every problem, there is certainly a way to fix it. For example, after choking on sawdust for awhile, you will have a better idea what you want in a dust collection system. This will keep the air clean for breathing while you work. In addition, you should become aware of the various features that you use the most and decide which tools may be good candidates for an upgrade.
Working with wood becomes much more than a hobby. If you have a true love for the craft, you may even decide to turn it into a business and do it on a full time basis. You also may be really ambitious and take on an extremely large and complicated project, such as building your own home. Having a tool such as a portable sawmill can accommodate that goal quite nicely. Wherever your hobby takes you, know that you have the right tools can really help you go to the next level.
What To Look For When Purchasing New Orbital Sanders
When working with a fresh piece of wood you will want to avoid gouging any part the wood. If you are an experienced wood craftsman, than you are aware of how gouging the piece of wood you are working on will damage your project. For those inexperienced wood craftsman's who are starting to work on a new project, they will want to look into investing in an orbital sander. The technological advancements made to orbital sanders over the last few years make this tool, an essential item, to have in your toolbox. These sanders will help you avoid making any project ending mistakes.
What makes orbital sanders unique is the random orbit. Random orbit is the ability to sand in a quite random orbit. The orbit will spin at speeds up to 25,000 RPM. A key feature of the random movement is that it creates a smooth finish, unlike the finishes that most palm or belt sanders leave behind. Most orbital sanders use sanding disks. The disks are usually round and typically around 5 inch diameter, which are normally attached to a foam-rubber pad. The sanding disk comes in several different number grits from as high as 220 (for exceptionally fine results) to as low as 60 (for an extremely coarse look).  Although not specifically designed for this, you can also use the sander to sand you floor or even drywall.
When purchasing an orbital sander there are so many different brands to choose from. There are brands like Dewalt, Bosch, Clarke, Ryobi, Husky, Porter Cable  and Makita available. Each brand has its pros and cons. The main differences between the different brands are their features. However, there are three main features any orbital sander you purchase must have.
Dust collection – this is a must. Your unit must have a dust collection bag or filter connected. Your sander should also be able to connect to a dust collection or portable vacuum unit.
Sealed switch – your unit will also need to have a sealed switch. You want to protect your unit from getting dust into the switch, which would damage your unit.
Balanced – all orbital sanders need to be well balanced. They need to feel comfortable in your hands, not shaking and feel like you are going to drop it any minute. All sanders will vibrate, but excessive vibrations could make for a long day. If you have small hands, make sure the sander is not too large.
Top rated orbital sanders are constructed out of heavy duty plastic with a metal body and rubber or gel pads. These features will improve your grip. This is especially helpful as you work with a sander with greater speed. You should be able to find plenty of reviews online to help you make the best choice.
The Benefits Of Having A Detail Sander
Wood working can require a lot of different tools. The exact tools that are required tend to depend on the type of projects that you typically undertake. However, anyone who does a lot of woodworking would benefit from having a detail sander. These sanders are power sanders that can make detail work a lot easier. It can take a long time to get corners, edges, and small spaces sanded nice and smooth with sandpaper, but with a power sander like this it is much easier.
You can buy either a corded or cordless detail sander. Cordless options tend to give you more options for where you can use them, but you need to make sure to keep the batteries well charged. With a corded model you know you will always have the power that you need when you need it. These sanders come with a number of different attachments to make it possible for you to sand all those hard to reach or tiny places that other sanders just won't be able to reach easily. Besides the attachments that actually come with this tool, you can also get extra attachments depending on your needs.
Detail sanders are particularly useful for people who work with furniture, especially furniture that has ornate carving. It is, however, important for you to use your tool carefully. You want to work slowly, and to be careful not to put too much pressure on the material that you are working with. This sander is meant to take away small amounts of material at a time, and you don't want to compromise either the item that you are sanding or the sander itself by forcing it to go faster or using more pressure than it is meant to be used with.
There are a number of different manufacturers for detail sanders. Some companies that you might want to consider include Ryobi, Bosch, Triangle, Versapak, and Porter Cable. Of course some have more accessories than others, and not all are of the same quality, so it is important to do your research. Checking out the reviews that other customers have posted online can help you to determine the pros and cons of the various options, and make sure that you choose one that will perform the tasks that you will require of it.
Choosing The Best Dovetail Jig For You
With some products, there is an obvious answer to the question "which one is the best?" However, there are other products where all the options do a good job. In these cases, it really depends on what you would like to do with the product that determines which would be the best for you. This is the case with the dovetail jig.
Pretty much all of the major brands of dovetail jigs will do a good job performing the basic tasks required of this tool. However, different makes and models have different features and will perform different tasks. What you need to do is determine what exactly you would like to do with your jig, and what features are most important to you. This will help you to narrow down the options so that you can find the best one for what you do.
It might be best to consider what tasks you are performing first. Do you want to be able to make both through and half-blind dovetails, and do you want to be able to use odd shaped pieces of wood or make asymmetrical dovetails? The more tasks you want to be able to perform, the fewer your options will be for dovetail jigs. This will help you to figure out which models it would do best for you to spend more time researching.
Then you should determine which added features are the most important to you. Some dovetail jigs will collect dust, and others won't. Some require little to no adjusting once you have set them up. Others allow you to make adjustments to fine tune the fit. Some are very simple to operate, and others require a bit more of a learning curve in order to be able to use them well.
Once you have figured out which makes and models will perform the tasks that you wish, it is time to look into your options more thoroughly. Check out the reviews online to find out more about the pros and cons of each model that you are considering, and compare the prices to see which will give you the most features for your money.  Some manufacturers you might want to consider are Rockwell, Sears Craftsman, Porter Cable, Leigh, Akeda and Delta.
The Advantages Of Drum Sanders
If you do a lot of sanding, you have probably been considering the different types of power sanders available and trying to figure out just which ones would be the most useful to you. One of the options that has recently become available to people who do woodworking from home is drum sanders. It used to be these were only made for more professional woodworking shops, but now there are many available for home use. These can really make your job easier if you sand a lot of large pieces of wood.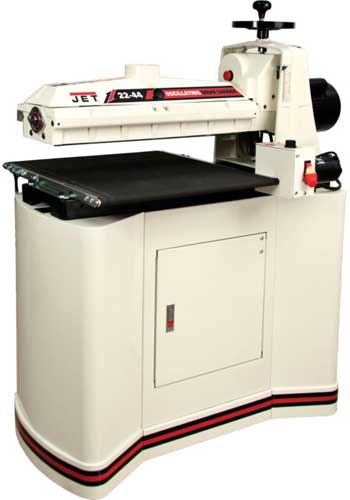 One of the advantages of drum sanders is that you can quickly sand large pieces of wood of varying sizes and thicknesses. You can even get the sander to even out pieces of wood that you have connected together that might not be exactly the same thickness. You can also sand off any stains and flatten out wood with a slight bow to it.
Although drum sanders will not take off very much thickness from a piece of wood at each pass, it will leave you with a very smooth finished product, so it can be even more useful than a planer in getting a piece of wood to the right thickness. It might take more passes, but the final product will be closer to ready to use.
Another good thing about drum sanders is that they do not mark or leave cuts in the ends of the pieces of wood you put through them. This means that you won't need to worry about trimming down pieces of wood and your waste will be less. You also can put pieces through that are at their final size without worrying about them getting damaged.
One thing to keep in mind is that these sanders really do produce a lot of dust. Many have a place to connect dust collectors or shop vacs so you don't need to worry about breathing in all this dust and getting it all over your workshop, however.
These sanders can be quite expensive, but there are a number of models that are under $1,000. Some of the high end sanders also feature inflatable or even oscillating drums. You will have to balance out their usefulness to you with their cost to see whether or not this is something that would be worthwhile for you to purchase for your home woodworking shop.  If you do decide to go shopping for a drum sander some brand to check out are Sparrow, Performax, Jet, Delta, Foley, Shop Fox, Clark and Wood-master.
Find The Right Dust Collection System For Your Home Or Shop
It does not matter if you own your own woodworking shop or you are just doing some woodworking around the house, the need for a dust collection system is paramount. There are many different reasons for a system. The first and perhaps the most important is that with high levels of sawdust moving about in the air, prolonged exposure can represent a significant health risk for you are the other people working in your shop. The other issue it that with chunks of wood flying about and large amounts of dust in the air, you could risk having damaged equipment as well. Either situation is not a good prospect and having a good quality dust collection system can go a long way to making your shop a safer and more efficient place.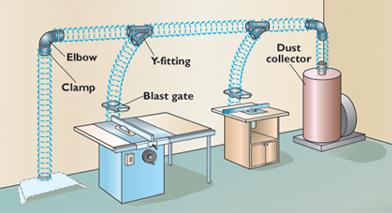 When it comes finding, the right system for your particular needs the first thing that you will want to do is to look for reviews of the dust collector that best suits your needs. This is a job for the Internet. There are countless sites that will offer comprehensive reviews and breakdowns of many of today's collector systems. This is a great way to pair down the right collector system for you. Whether you are looking for a portable system or a central vacuum system, you can get a good idea of what systems are right and which ones are wrong for your needs. Make sure the system you select has enough extraction capability. A couple of brand to consider are Arristal and Cyclone.
The next step, once you have found the right dust collection system for you or your shops needs, is to purchase it. If you need your saw dust collector as soon as possible, you always have the option of purchasing it at your local hardware or home improvement store. However, if they do not have the particular model you are looking for or you are looking to find the best price for your system, you will want to purchase your system online. The selection online will always be better than any hardware or home improvement store could ever offer you. In addition, you are likely to find the best deal online as well.
Having a dust collection system is a very vital part of any shop. Whether it is your business workshop or your home workshop, the issue of proper dust collection is something that is commonly overlooked, but for safety's sake, it is something that you cannot simply ignore.